Feather stitch (or featherstitch) just curls across the fabric and lightly gives your design a soft feathery texture. 'As light as a feather' is a great description to add to this delicate and soft stitch. Feather stitch is a form of chain stitch and is a simple, basic embroidery stitch. Useful for branches, twigs, vines and underwater seaweed or coral, it can twist and turn gently into a picturesque work of art. You will also find feather stitch on the seams of some quilts as a decorative stitch.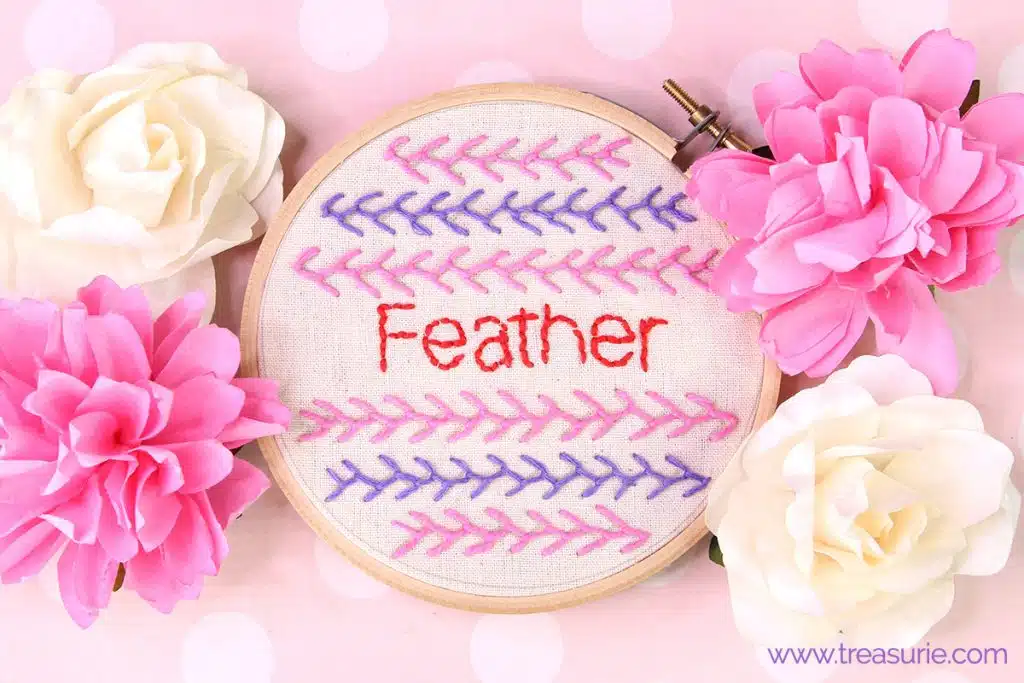 Feather Stitch Shapes
Feather Stitch Shapes: Feather stitch can grace your design freely or you can be pedantic about symmetry and draw four lines to work within ensuring each stitch is exactly in the right place and has the right spacing.
If you choose to draw four evenly spaced lines to work with then the gaps between the lines will determine the size and length of the stitch. I always recommend using lines when learning this stitch.
This stitch looks complicated until you realize it is just a series of offset v shapes.
Draw 4 lines and the v shapes as below. Once you have practiced the stitch a few times you won't need the guidelines and can switch to a more free-flowing version.
How to do Feather Stitch
Step one: Starting Stitch
Bring your needle up from the back of your fabric to the left of your first marked row at (1).
Note: we will be working this stitch left to right
Step two: Form the First Triangle
The first line is the starting point and your thread loops across to the third line for the second point of the stitch at (2).
See how (2) is directly in line above (1).
Exit the needle at (3) which is on the second line and equal distance forwards from (1) and (2).
Loop the thread under the tip of the needle at (3).
Step three: Add More Feathering
Continue to follow your design adding feathering on each side.
The next loop of the stitch goes across to line four as you complete the second triangle.
Insert the needle at (4), exit at (5) making sure the thread is under the tip of the needle.
Step 4: Start Again
Back to line one to create another triangle the same as the first.
Variations can come naturally as you change the length, size and symmetry of the triangles.
You can choose to only feather one side of the line or you can freehand this stitch very easily.
Feel as free as a bird and get creative with feather stitch!
More Embroidery Articles
Chevron Stitch