Learn hand stitching and how to hand sew a seam the easiest way with this tutorial. The two most common ways to hand sew a seam are using either a running stitch or a backstitch. They are not always as strong as using a sewing machine but sometimes you can't beat the convenience of sewing by hand.
If you have a quick alteration or something to mend then hand stitching is a great way to quickly get the job done with a minimum of tools and without getting your sewing machine out from the cupboard.
How to Hand Sew a SEAM
What You Need
FABRIC: Scrap fabric or your project to be sewn
NEEDLES: Hand sewing needles. These come in assorted sizes. Choose one that suits your thread and fabric. If you are sewing woven fabric, then choose a universal needle in an appropriate size for your thread.
THREAD: Strong thread in a matching color. I have used a contrast thread for my sample photos but you will find using a matching color will be more forgiving and the stitches will be invisible.
LIGHTS: You will need good lighting! Sit near a window or a bright lamp. You will be amazed at the great results you will get with decent light.
Further Reading: Sewing Thread Types and Hand Sewing Needle Guide
Thread the Needle
THREAD – Start by threading a needle either double or single and knotting the end. Just hold the needle up to the light and put the cotton through the eye. A sharp pair of scissors to trim the end will be your best friend. If your cotton is thin then double it over then knot the ends together. Thicker threads such as embroidery floss can be threaded singularly.
LENGTH – Overly long threads tend to tangle so try starting with a maximum length of 12 inches (30cm).
THREADING HACKS – Needles are easily threaded by learning how to use a needle threader. This little silver device will thread the needle for you so you don't need to squint and get frustrated.
EXTRA READING – For completely new sewers, I have an article on how to thread a needle that will help you.
How to Hand Sew a Seam
There are 2 main ways how to hand sew a seam.
Running Stitch
Backstitch
How to Hand Sew a Seam with Running Stitch
Running stitch is one of the easiest and fastest hand stitching methods. Use this method if this is your first time sewing or if you have a seam that will only be under a small amount of stress.
Running stitch is not quite as strong as backstitch but considering how easy it is to do, it is certainly a great option.
Running Stitch Instructions
Put your fabric with right sides together. We will be stitching on the wrong side of the items so that when your seam is the right way out, the stitches will be hidden on the inside.
Insert the needle into the fabric and make small up and down stitches of even length.
For right-handed sewers, you will find it easiest to work from right to left. Left-handed sewers will work the opposite way from left to right.
For seams, I recommend evenly spaced gaps and stitches. As you gain the confidence you will be able to sew several stitches at once in an up and down motion.
The smaller your stitches, the stronger your seam will be. Start with small stitches that are 1/8 inch (3mm) or 1/4 inch (6mm0 for thicker fabrics. Click here for how to sew a running stitch step by step.
To finish your running stitch take a small stitch backward and before you pull the loop tight, put the needle through it to form a knot. Do this a couple of times and then cut off the tail thread.
How to Hand Sew A Seam with Backstitch
Backstitch is a hand stitch that will give you a nice strong seam and is great for repairing clothing and for small sewing projects as a substitute for using a sewing machine.
Backstitch Sewing Instructions
Put your fabric pieces with right sides together, ready to sew the seam.
First, put the needle down through the fabric and bring it up a short distance away. Pull the thread through. For right-handed sewers, it is easiest to sew from right to left like you see in my photos.
If you are a beginner, test sewing your backstitch seam with stitches that are at most 1/4 inch (6mm) in length. The smaller stitches are, the better. See if you can get it down to 1/8 inch (3mm) once you have the hang of this stitch.
Then take a small backstitch in the fabric inserting it in the same place you started. Position 3 below is exactly the same as position 1 above. See how the needle is being inserted in the same place as the knot.
Bring the needle up in front of the first stitch at an equal distance at position 4.
Now just keep repeating. Your needle will go in at position 2 next.
To finish your row of stitching, use the same method I showed you in the running stitch section above.
Want more photos? Read how to sew a backstitch
How to Hand Sew a Seam – More Options
Running stitch and backstitch are certainly the easiest but they are not the only way to hand stitch a seam.
There are 2 more options you can use –
Whipstitch
Ladder Stitch
Whipstitch uses an over the edge motion and is great for sewing felt seams and for mending holes in seams. It has the advantage of sealing the edges and is very easy for beginners. Read my article on how to sew whip stitch
Ladder Stitch gives an invisible finish and is great for closing gaps in seams and mending holes. It is created by sewing in the fold of the seam from the outside and passing the needle from side to side. Read my article on ladder stitch.
Below shows you what the finished ladder stitch looks like. I used a contrast thread so you could see my stitching but this stitch is almost invisible when you use a matching thread and take small stitches.
Now you know how to hand sew a seam, what will you be using these easy hand stitches for? Share in the comments section.
How to Hand Sew Embroidery
As well as sewing seams, hand sewing is used extensively to embroider and decorate items.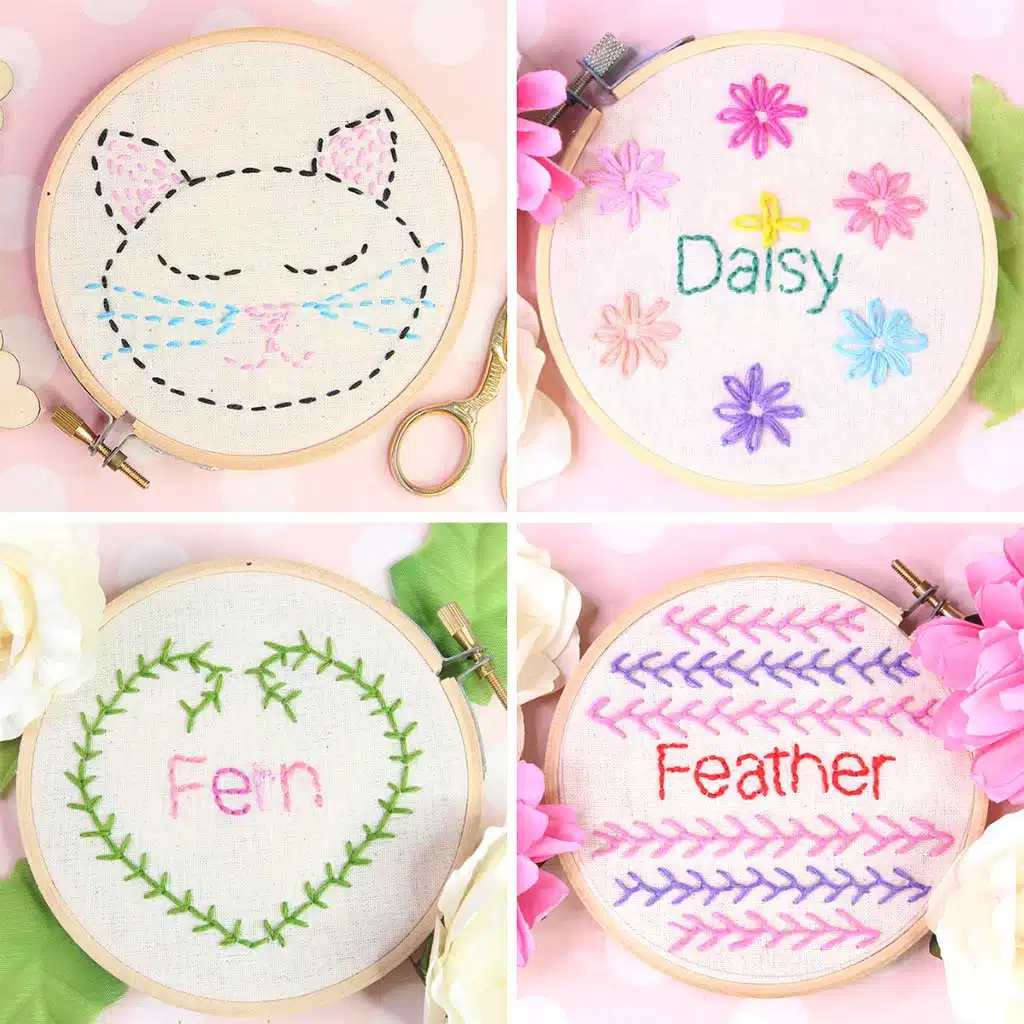 READ MORE IN MY HAND STITCHING SERIES