It's tension time and you feel the stress of not being able to get the sewing machine tension quite right. The more you react to the machine's performance the tenser you become.  It's time for a checklist and when you have gone through all the points your tension will have disappeared and your machine will be performing beautifully.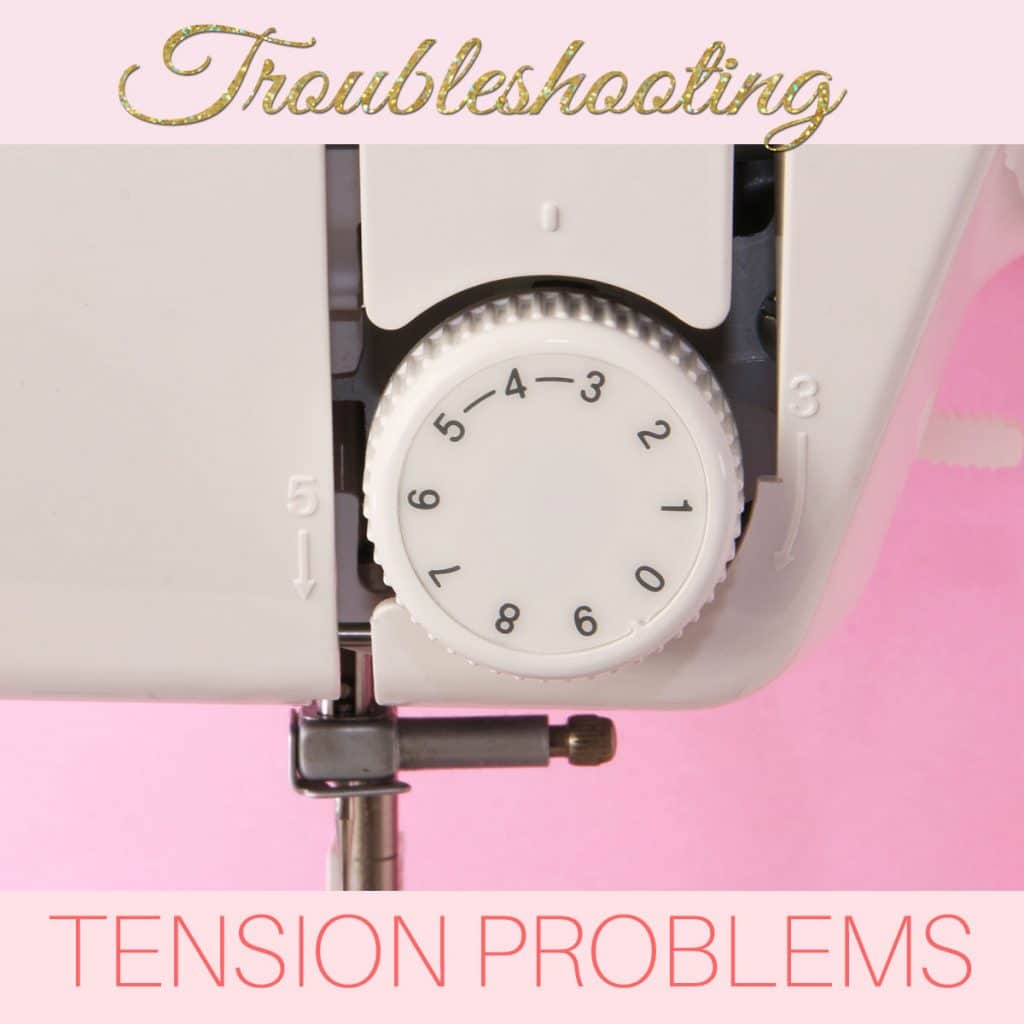 What is Perfect Sewing Machine Tension?
Perfect sewing machine tension occurs when the top and bottom threads are perfectly balanced. That means you shouldn't see any little loops on either the top or bottom of your fabric and the stitching should look even on both sides.
While you may be tempted to go straight to the tension dial on your machine, there are numerous other issues that can put your tension out beside the dials. Always check these first before playing with the tension dials.
How to Fix Sewing Machine Tension Problems
Sew…What can you do?'
TIP #1: NEEDLES
Check the sewing machine needle and replace it if necessary. A bent or blunt needle can cause your tension to go out.
TIP #2: CORRECTLY THREADED
Make sure you threaded correctly. If in doubt, always rethread both the top thread and bobbin.
TIP #3: DIRT
Have a quick look for any fluff caught in the wheels or bobbin. Even just a little bit of fluff can upset the whole machine. A small stiff paintbrush can sweep your machine clean. Fluff can also accumulate in the eye of the needle.
TIP #4: DIALS
Check all your dial settings are correct and haven't moved from their regular position. You never know who may have been playing with the machine dials and settings. All those dials look very inviting to children. Most sewing projects will have the tension dial set to 4.
TIP #5: THREAD QUALITY
Change the thread you are using and check it is a quality brand. Cheap brands can be uneven and break easily.
TIP #6: MATCHING THREAD
Both the top thread and bobbin should be the same brand, quality and weight. If they are mismatched it can cause tension problems.
TIP #7: TOP THREAD CAUGHT
Check the top thread is not caught around the base of the spool. If it gets caught it will cause the top tension to become too tight. Also, check for any knots or tangles in the thread.
TIP #8: MACHINE DAMAGE
Check the throat plate is clean and has no unwanted nicks or damage. Sewing over pins and needles breaking can cause nicks in the throat plate that can snag the bobbin thread. If small, a technician can buff the nicks smooth. Otherwise, buy a new plate.
TIP #9: BOBBIN WINDING
Check the bobbin is wound evenly and not too tight. Check it for snags.
TIP #10: BOBBIN CASE
Finally, check your bobbin is inserted correctly. Some machines have an adjustment screw on the bobbin case. Check your manual and adjust accordingly.
Still feeling tense? If these quick fixes didn't work then it is time to adjust your tension dials.
How to Adjust Sewing Machine Tension Dials
If all the above is still not giving you a nice even stitch, sew a test on a scrap. Use a scrap of the fabric you are planning to sew as different fabrics will need different tension adjustments.
Loops at the back mean the top thread tension is too loose. Increase tension (higher number) with small increases at a time. Keep checking till you get it right.
Loops on top of the fabric mean the top thread tension is too tight. Decrease tension (lower number) with small increases at a time.
If all else fails, release your tension and have a laugh at a little joke along the way. Thanks to Sandy who posted it on a sewing forum.
A Sewing machine walks into a pub. The waiter stops and says….Aren't you a famous Singer
If the sewing machine tension is still out?
It is time to take your machine to a technician. Like cars, sewing machines need regular tune-ups and services.
MORE TROUBLESHOOTING ARTICLES