When you are first starting to sew, one of the first things you need to know is what the most common sewing terms mean. Here is are some of the sewing terms you are likely to come across in your first sewing projects.
Sewing Terms
Many of these sewing terms contain links to more detailed tutorials if you would like to learn more about sewing.
Backstitch
Meaning #1: Backstitch is used at the beginning and end of a machine sewn seam to keep it from unraveling. Just put your machine in a reverse position for a few stitches. (Read how to backstitch seams)
Meaning #2: Backstitch can also refer to a style of hand stitching used to create strong seams. (Read how to hand sew backstitch)
Baste
To baste is to temporarily join pieces of fabric together using long stitches that can be easily removed. This can be done either by hand, pins or machine.
Further Reading: How to baste seams 5 ways.
Bias
Bias is the diagonal cross-grain of the fabric at 45 degrees. It is where there is the most stretch.
Further Reading: Selvage, Grain and Bias
Bias Tape (also known as Bias Binding)
Bias tape is made from long strips of fabric cut on the bias. It is usually used to envelop the raw edge of a hem or seam. It can be bought ready cut or made from fabric or scraps to make a self-bias binding. Bias tape is used for bindings, facings, or other applications where there is a need for stretch or accommodation to curves.
Further Reading:
Blanket Stitch
Blanket stitch is a hand embroidery stitch used on the edge of felt, wool and blankets. It is made up of vertical stitches and a line of thread around the edge of the applique or fabric.
Further Reading: How to do Blanket Stitch (includes video)
Bobbin
A bobbin is a plastic or metal small spool of thread that goes in the bottom of the sewing machine.
Further Reading: How to Wind a Bobbin
Clip Corners
To clip the corners means cutting off excess fabric from cornered seams to reduce bumps and puckering at the corner when you turn your item right side out.
Further Reading:
Clip Curves
You clip curves by cutting a wedge out of the seam allowance along a seam so it lies flat and smooth when you turn the garment right side out. 
Further Reading:
Dart
A dart is a small pleat or tuck in the fabric to give the garment shape. It is typically used at the bust and waist.
Further Reading:
Dressmaker Dummy
A dressmaker dummy is a mannequin covered in fabric that is used to fit clothing. They may be a fixed size for creating samples of fully adjustable to match your body.
Further Reading: Types of Dressmaker Dummies
Ease
To ease a pattern piece means to adjust a longer edge of fabric to a slightly shorter one in such a way that the gathers or pleats aren't obvious. It is most commonly used when attaching sleeves to a bodice.
Ease can also refer to the amount a garment is larger than your body.
Edge-stitch (or Top Stitch)
To stitch very close to the edge of a folded or seamed edge in order to finish a project, offer stability or close an opening. It can be used for decorative effect and is usually 1/16" or 1mm from the edge.
Further Reading: How to topstitch
Finish (an edge)
Finishing an edge is done by zig-zag stitching, turning under 1/4″ (6mm) and stitching, serging or other methods of finishing the edge so it doesn't unravel or cause a bulk problem.
Further Reading: Easy seam finishes
French Seam
A French seam is a method of encasing raw edges to create a durable seam that will not fray. It is best suited to straight edges such as those found on pillowslips. French seams are also the ideal edge finishing for sheer fabrics.
Further Reading: French Seams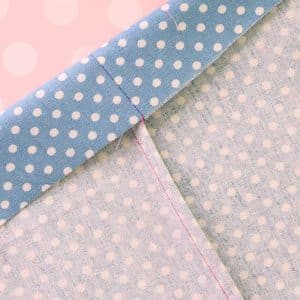 Fusible Interfacing (webbing)
Fusible interfacing is able to be pressed on without having to use stitching. It is fused with heat-activated glue on one or both sides. Double-sided fusible interfacing is used a lot for appliqué.
Gathering
By gathering, you can join a long piece of fabric to a shorter piece.  To gather a piece, two parallel lines are sewn on the right side of the fabric, 1/4″ (6mm) apart. The long tails of the thread are left for gathering and then the bobbin threads (on the wrong side of the fabric) are gently tugged, gathering the fabric evenly on the threads.
Further Reading: How to Gather Fabric
Grading a Seam
Grading a seam simply refers to cutting away some of the layers of the seam allowance to reduce bulk.
Further Reading: How to grade a seam
Grain
The grain of the fabric follows the length of your fabric. When you lay out a pattern on your fabric you line the arrow on the pattern with the grain of the fabric. The grain is always parallel to the selvage.
Further Reading: Selvage, Grain and Bias
Hem
A hem is usually made by turning up the raw edge twice. It hides the raw edges of a garment.
Further Reading: More about sewing hems
Hooks and Eyes
Hooks and eyes are small metal fastenings used to close the openings of clothing. They are hand-sewn on and are often found at the tops of zippers on skirts and dresses.
Interfacing
Interfacing is a material that is used between layers of fabric to stabilize and add thickness to a garment. It can be non-fusible which must be sewn onto the fabric or fusible which is pressed to join it to the fabric.
Further Reading: Types of Interfacing
Knit Fabric
Knit fabric stretches and so needs special needles and stitches when sewn.
Further Reading:
Ladder Stitch
See slipstitch
Nap
Nap refers to a fabric with a one direction pile or pattern. It must be cut in all the same direction and so often takes more fabric consumption. Examples of fabric with nap include
Further Reading: Sewing with Napped Fabric
Pinking shears
Pinking Shears have a V shape along the cutting edge and are used to cut fabric to prevent it from unraveling.
Further Reading: Sewing cutting
Pintucks
Pintucks are small, narrow pleats used for texture and design in clothing.
Further Reading: Pintucks
Piping
Piping is a decorative finish used on homewares such as cushions and on clothing. Bias tape covers a piece of rope to make a hardy and stiff border.
Further Reading:
Raw Edge
A raw edge is the cut edge of the fabric. The alternative to the raw edge is the selvage which is the edge that has been woven and does not fray.
Further Reading: How to Stop Fraying
Right side of the fabric
The right side of the fabric is the top side of the fabric. It is usually printed and softer or smoother. Sometimes there is no difference between the right and wrong side of fabrics.
Ruching
Ruching is a type of gathering used to create volume and design in clothing. Ruching can be created using elastic or a casing.
Further Reading: Ruching
Running Stitch
A running stitch is a simple up and down hand stitch than can be used for basting and seams.
Further Reading: Running Stitch
Selvage
A selvage is the edge along the width of fabric that is machine finished. It doesn't fray and often has the manufacturer's details on it.
Further Reading: Selvage, Grain and Bias
Slip stitch (Ladder Stitch)
To slip stitch is to hand-sew a fabric or garment with stitches that are hidden or not very visible.
Further Reading: How to Sew a Ladder Stitch
Seam Allowance
The seam allowance is the area between the raw edge and the stitching line.
Further Reading: How to Add Seam Allowances
Serger (Overlocker)
A serger or overlocker is a sewing machine that cuts the raw edge of the fabric as you sew. It is used to finish seams and neaten the inside of garments.
Further Reading:
Stitching Line
This is the line that you actually sew on. It is usually 1/4 inch (6mm), 1/2 inch (12mm) or5/8 inch (1.5cm) from the raw edge. The stitching distance from the raw edge is called the seam allowance and will be specified in the pattern by the designer.
Further Reading: How to Sew a Straight Seam
Stitch Length
The stitch length is usually set at 2.5 for normal sewing and can be adjusted on your machine. If you are basting or gathering then the stitch length should be set to 4.0.
Seam Ripper
A seam ripper is a small tool used for removing stitches. It is also called an unpicker in some countries.
Further Reading: How to Use a Seam Ripper
Stay stitch
Stay stitching is a line of stitching just inside the intended permanent stitching line on a curved edge that stabilizes and keeps the curve from stretching and distorting.
Further Reading: How to Stay Stitch
Stretch Factor
Knit fabrics stretch by different amounts and as such as suitable for different projects. Stretch factor measures the amount of stretch in a knit fabric as a percentage.
Further Reading: How to Measure Stretch Factor
Tension
Sewing machine tension refers to how easily the thread can pull through the machine to get even stitches on both top and bottom. It is usually adjusted from a knob at the front fo the sewing machine.
Further Reading: Sewing Machine Tension
Thimble
A thimble is a small device that fits over your finger to protect it from needle pricks when hand sewing. They can be made from metal, plastic, ceramic or even leather.
Further Reading: What is a Thimble
Top Stitch
See edge stitch above.
Trim
To trim is to cut away the excess fabric. Trim is also any decorative item, ribbon, lace that is put on a garment or craft item that is being sewn.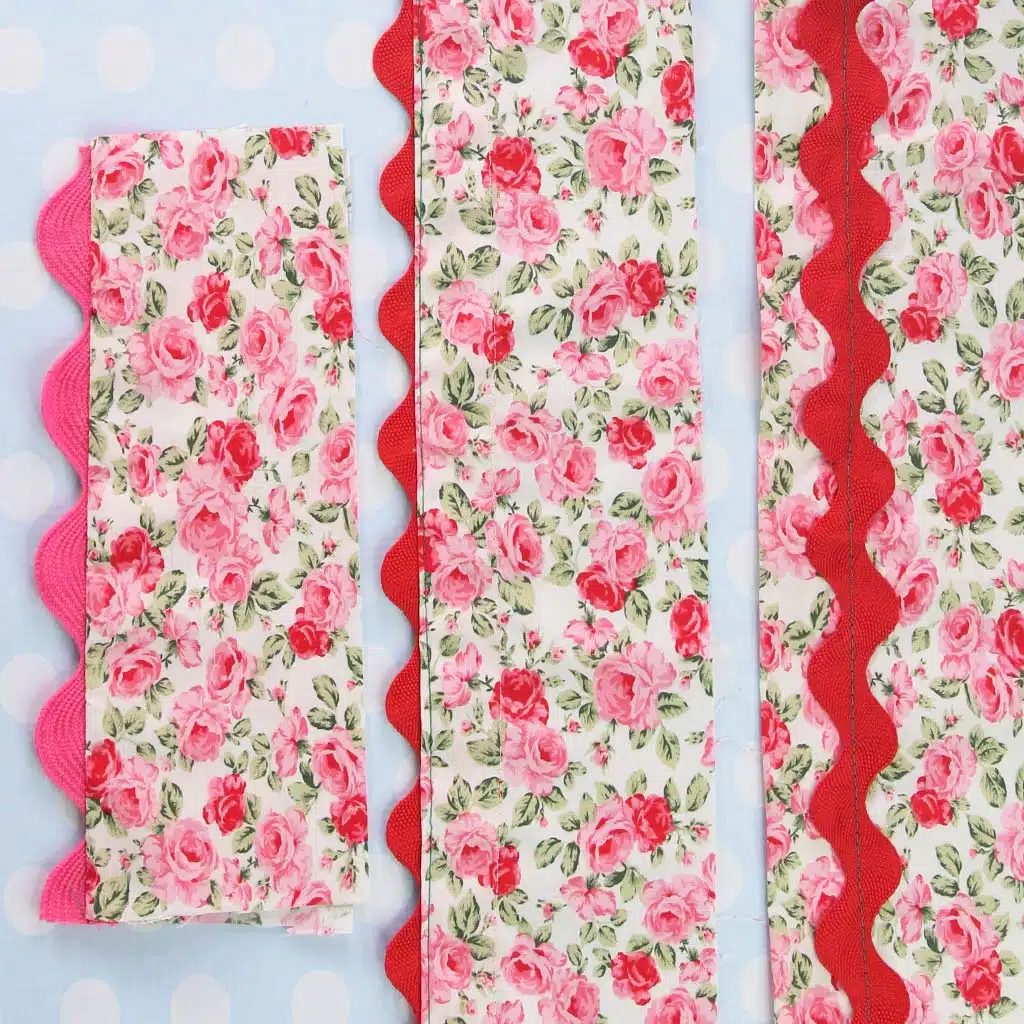 Further Reading:
Twin Needle (Double Needle)
A twin or double-needle is used for sewing double rows of stitching on the hems of stretch fabric garments.
Further Reading: How to Use a Twin Needle
Understitch
Understitching is used to secure facings so that they don't lift up when worn. It allows facings to sit flat.
Further Reading: Understitching
Wrong side
The wrong side is the inside or back side of fabric. It is usually rougher or less finished. For printed fabric, the wrong side will look faded or lighter than the right side.
Zig-Zag
A stitch that goes one way (zig) and then the other (zag) and provides a nice finish to a seam to prevent unraveling. It can be a decorative addition to any garment and can allow for give with knits. In addition, it can be used for appliqué.
Sewing Terms | In Conclusion
I hope you enjoyed this beginner's guide to sewing terms. There are many other terms you will learn as you gain confidence in sewing. If you are stuck on any please comment below and I can add them in.