"A pin is a pin…" Perhaps you would say that if you didn't know just how important this little sewing notion is to the dedicated seamstress. Knowing the types of pins for sewing can ensure the perfect preparation for any task.
Pins help with pattern laying, darts, seam adjustment, adding trims and setting hems at the right length. A pin is invaluable for marking alterations and fittings. The types of pins list is lengthy and just when you think you have covered it all, another purpose for a pin pops up!

Types of Pins
If you had to dissect a pin these are the parts you would look at:
The Head – Probably the most important consideration is the tiniest part of the pin – the pinhead.  Popular materials include glass, plastic or metal. A hot iron on a plastic pinhead is not going to be a pretty sight. Ruined fabric and sad seamstress! Make sure you use a glass head pin or one with the tiniest metal top.
The Point– These come in standard, extra sharp, or ballpoint. The ballpoint pin ensures no snags are found in your beautiful knit creations.
The Metal – What pins are made of can vary too. Most are made from steel but occasionally they can be copper or brass.
Thickness – Pins vary in thickness to suit different fabrics. As a general rule use fine pins for fine fabrics and thicker pins for thicker fabrics. You wouldn't want to use thick pins in a fine fabric like silk as it would leave holes.
If you want a professional finish and good support for your project from quilting to applique and sewing with jersey knits, then you need the right pin for the task on hand. Now you have all this useful information you will have to agree – you can never have too many pins for your sewing pleasure.
The conscientious seamstress will keep a careful eye on those pins, take out the rusty and bent ones and remember the old saying '' if you see a pin and pick it up then all the day you'll have good luck.'' That must make anyone who sews one of the luckiest people in the world!
Now you just need somewhere to put all those pins! Get this FREE pincushion pattern with printable pattern pieces.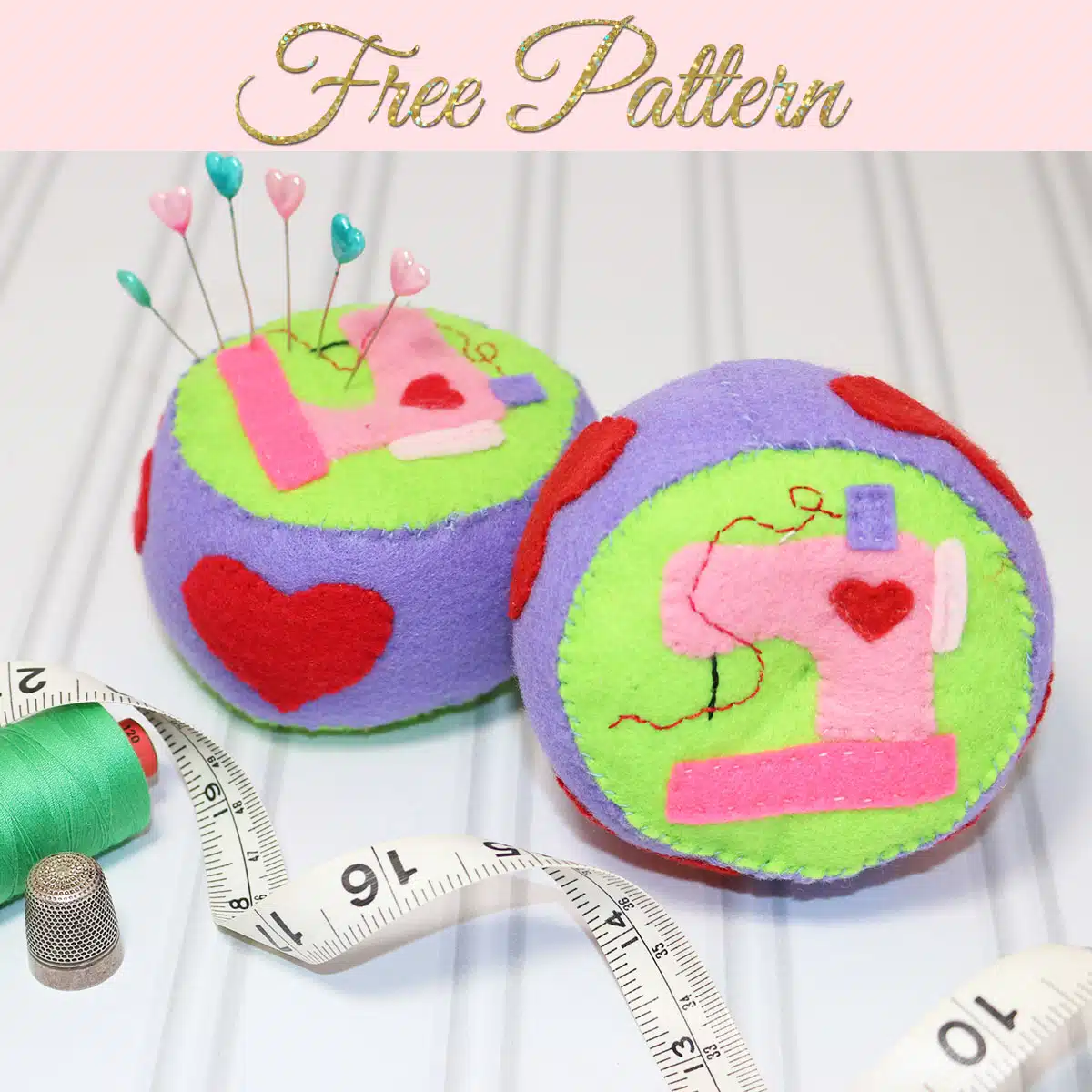 More Articles about Pins